The most recent technology being utilized in various fields and sectors is artificial intelligence (AI). AI has been enabling noticeably dominant results as it continues to encroach into fields that were previously designated for human expertise. Similarly, AI is being used in the realm of software testing to streamline the automation testing process and offer higher quality results.
Organizations are implementing AI-based tooling and methods in software testing to improve testing's intelligence, efficacy, and efficiency. The use of AI in software testing will typically improve the overall testing process quicker, simplified, and more cost-effective. Software testers will be able to use AI to advance the testing process and give firms higher-quality findings thanks to the strategic platform that AI-based testing will offer.
AI-Based Software Testing
Artificial intelligence and Machine Learning algorithms are employed in the software testing technique to efficiently test software products. AI-based testing seeks to improve the efficacy and intelligence of the testing process. Logical thinking and problem-solving techniques can be used to use AI and ML in testing to enhance the entire testing process. Additionally, this testing methodology employs AI-based testing tools to carry out tests that are designed and carried out without the assistance of humans by using data and algorithms.
While ML enables computers to learn autonomously without any human involvement, AI algorithms can perfectly replicate human intellect. It's interesting to note that AI and ML include the creation of specific and one-of-a-kind algorithms that can fetch the data, learn from that data by identifying patterns to inform judgments and apply these predictions to efficiently perform software testing.(AI Based Software Testing)
Furthermore, businesses are gradually moving to technologies that can utilize AI and ML algorithms to successfully test software. Additionally, it has been observed that organizations gain a lot from AI-based testing because it enables speedier and continuous testing, full automation without human interaction, and faster ROI.
Benefits of using AI in Software Testing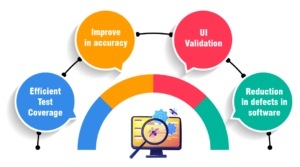 As AI can seamlessly verify the contents of files, data tables, memory, and internal programme states, it boosts test coverage. It aids in determining whether the programme performs as planned and provides adequate test coverage.
When performing UI testing on applications, AI's image and pattern recognition capabilities work together to assist find visual defects. Making ensuring that every visual component is appealing and capable of operating effectively is helpful. Regardless of their size or shape, AI can recognize dynamic User Interface controls and analyze them at the pixel level.
The likelihood of human mistakes when using the manual testing approach is significant, particularly when doing repetitive activities. This human error-proneness is reduced with the aid of automation testing. However, the introduction of AI in automation testing has improved the handling of repeated jobs and improved the accuracy of the results. As a result, AI enhances test accuracy overall by removing even the smallest possibility of inaccuracy.
Reduction in defects in software
AI in software testing aids in quick and early problem detection, which eliminates flaws and makes the software dependable for users and bug-free. Read for more :  AI in Software Testing
Click here